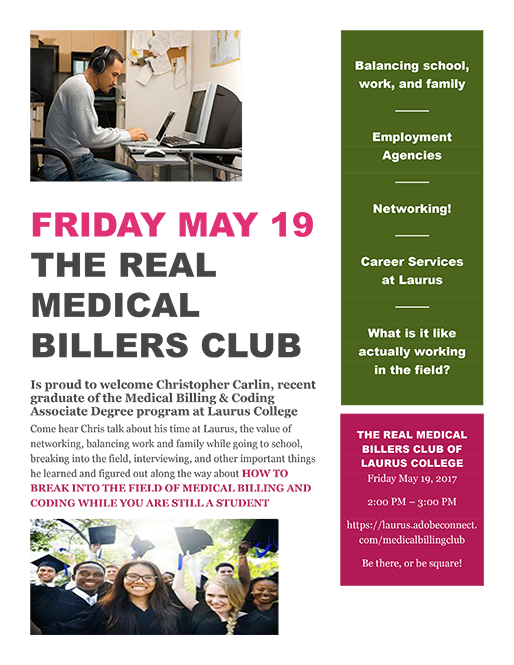 The Real Medical Billers Club is proud to welcome guest speaker Christopher Carlin, recent graduate of the Medical Billing & Coding Associate Degree program at Laurus College.
Come hear Chris talk about his time at Laurus, the value of networking, balancing work and family while going to school, breaking into the field, interviewing, and other important things he learned and figured out along the way about how to break into the field of Medical Billing and Coding while you are still a student.
Attend this meeting on Friday (May 19) from 2 PM to 3 PM via Adobe Connect: https://laurus.adobeconnect.com/medicalbillingclub/
*Remember to join the Real Medical Billers Club Facebook Group and chat with your fellow students and club members.
---
Also, the rest of our student clubs now have a Facebook Group. We encourage all of you to join in on the conversations going on there. Remember, our clubs are open to all students and alumni even if you are not currently enrolled in that program.
"ITNet Pro Club" – Information Technologies & Network Systems
"The Entrepreneur's Club" – Professional Business Systems
"The Real Medical Billers Club" – Medical Billing & Coding
"Get Reel Club" – Digital Arts & Computer Animation
"Web Design Club" – Web Design
If you do not have a Facebook account, you are more than welcome to attend the meetings which are posted here on the Student Club page.